A Boat Tour Amsterdam is one of the most favorite things visitors do during their stay in the city. Amsterdam is known as the city with the most water and canals. It is also called the second Venice in Europe! Therefore, what could be better to explore the city and its scenic landmarks with a boat tour in Amsterdam. Discover the famous point of seven bridges, which is beautifully lightened up in the evening hours!
But which boat tour Amsterdam is the most suitable for creating a memorable experience? After all, there are plenty of boat tour agencies all around the city with a variety of boat types. Read here more about the differences of a private boat tour vs a shared boat tour.
1. A private boat tour amsterdam for a comfortable boat ride
The private boat tour has many amenities to offer. Other than the large tourist boats, the comfort of the seats are much better. You will be seated on comfortable cushions with soft fabric. There is also a heating system on board. On top of that, you can enjoy a filled minibar with a variety of ice-cold drinks. Sip on your favorite drink while cruising through the Amsterdam canals!
On large tourist boats, the boat tour will have a different vibe. It is shared with many large groups and especially during the corona period less recommendable. Besides that, the boat is less comfortable as you are usually placed on plastic seats.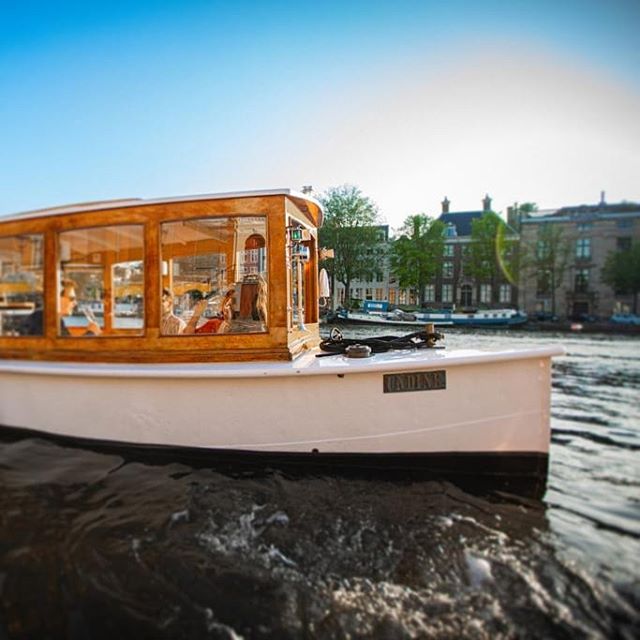 2. Kid-friendly activity
Travelling with a smaller child and are worried that they might not be as interested in the history of the city as you? Well, then this is another reason to preference Amsterdam Private Boat. The captain does not just have personal attention for your whole group, but is also well experienced in entertaining kids to keep them happy during the tour too! For this reason, your children can use coloring books during the boat tour. This will keep them entertained even through the historical fact speech of the captain! Wondering what else we can do to make your child smile during the boat excursion? Please get in touch with us via amsterdamprivateboat.com or give us a call via +31 6 45 25 1000 .
3. Small price difference between private and large boat tours amsterdam
Another reason to choose for a private boat instead of a large canal boat should also be the small price difference. If you are travelling with a group of 4, the price of a 1 hour private boat tour Amsterdam is just 37.50 Euro per Person. Whereas a large canal boat can also be around 20 Euro per person. When booking a private boat, you pay for the whole boat. Prices start from 150 Euro per hour and therefore the price per person decreases the bigger your group is. Find a complete overview of the prices and boat tour packages here.
Conclusion
A boat tour Amsterdam is definitely a must for each visitor. The city is especially impressive when discovered with a private boat. Night times are also really famous due to the fact that landmarks like the point of 7 bridges can be seen much better. If you are a single traveler with low budget, a large canal boat might be the better choice. Other than that, a private canal tour comes with a greater experience. It does not just allow you to speak with a real local, the captain, during the boat tour, but also gives you more freedom to share the experience just with your own group. We also offer the tours in french language via our website bateau-amsterdam.fr .