Luxury boat tour with Veuve Clicquot & other delicious Champagne
Get ready for a thrill of a lifetime with the Champagne Canal Cruise Amsterdam! Picture yourself gliding along the enchanting canals of one of Europe's most beautiful cities, sipping on some of the finest sparkling wine, under a starlit sky. It's not just a cruise; it's a celebration of life, love, and laughter!
The champagne canal cruise Amsterdam is a dazzling spectacle that you simply cannot afford to miss. As soon as you step foot on the elegant cruise boat, you're welcomed by your friendly captain with a glass of sparkling champagne. The bubbles dance in your glass as the city's charming vistas come alive in front of your eyes. The twinkling lights reflecting off the water surface, the vintage bridges arching over the canals, the ancient yet quaint Dutch houses lining the banks – every sight is a postcard-perfect moment waiting to be captured.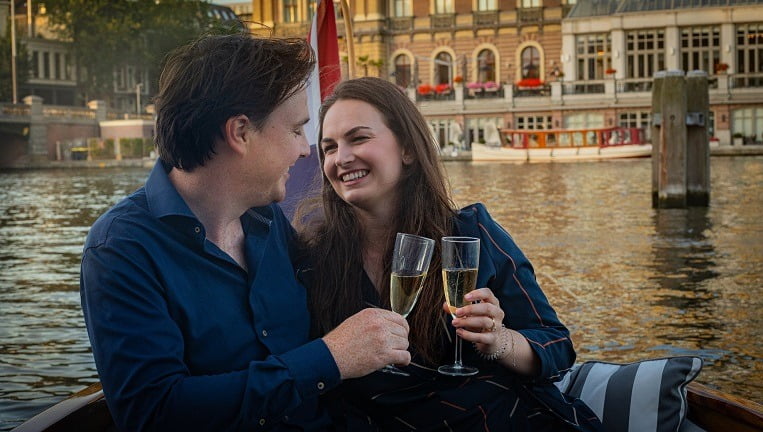 But wait, there's more! The champagne canal cruise Amsterdam is not just about the stunning visuals; it's an immersive journey that tantalizes all your senses. The pop of the champagne cork, the gentle lull of the boat as it meanders through the winding canals, the soft whispers of history echoing from the city's antiquated architecture – it's all part of this magical experience.
Choose from a variety of sparkling wines – premium Champagne available too!
Of course, no champagne canal cruise Amsterdam would be complete without a taste of some exquisite sparkling wine. This is where your taste buds get to join in on the fun! Savour the delicious notes of premium champagne as you toast to this incredible adventure. Whether you're a connoisseur or a casual drinker, this is a chance to indulge in some of the best sparkling wines around, right in the heart of Amsterdam.
Our minibar has the following Champagne options in stock:
> Gruet (Brut) – 72,50 Eur/bottle
> Veuve Clicquot (Brut) – 100 Eur/bottle
Should you require any other (premium) brand like Moët & Chandon, Laurent Perrier or Ruinart Champagne, please get in touch with us. We can arrange most other Champagnes for your tour as well.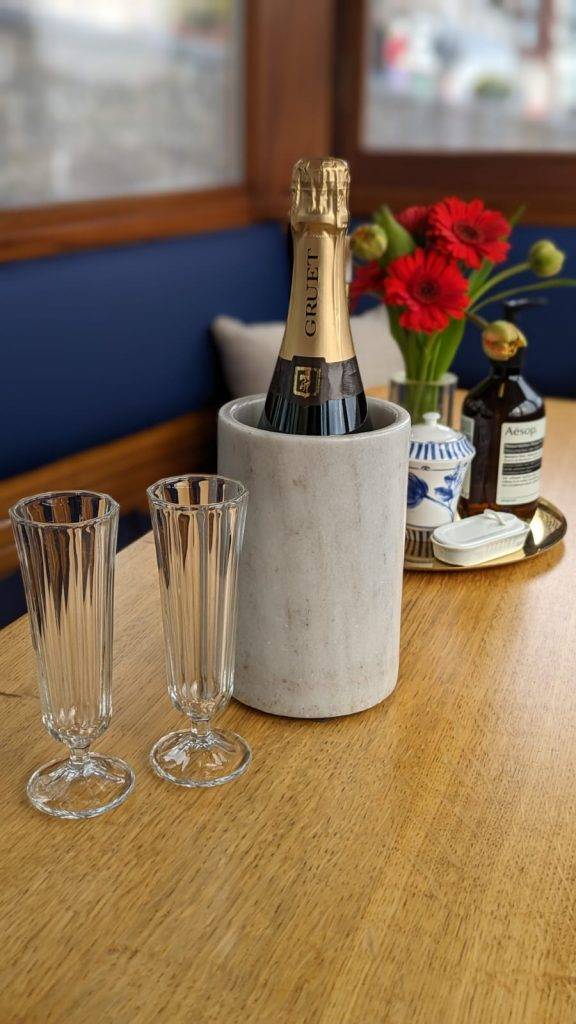 So why wait? Get on board our luxury private boat and embark on an unforgettable journey filled with beauty, history, and of course, plenty of bubbly! Whether you're looking for a romantic night out, a unique sightseeing adventure or simply a fun way to celebrate a special occasion, this cruise has got you covered. It's time to let the sparkling wine flow and let the good times roll on this private & luxury champagne boat tour.
Book your Champagne Canal Cruise in Amsterdam
You can book directly via our reservation system and add your preferred Champagne when making the reservation. Should you require any specific Champagne, please mention it in the comment section together with the number of bottles and we will get in touch with you regarding the options / surcharges. Any questions? Please do not hesitate to contact us via phone or whatsapp.
We are looking forward to welcome you soon on board with a glass of Champagne!