Luxury 4-course private dinner cruise Amsterdam
Private dinner cruise Amsterdam with a 2, 3 or 4-course dinner on a historic saloon boat. Step onboard on our luxury classic canal boat from 1920s and enjoy a unique romantic candlelight dinner cruise while floating through the Amsterdam canals! Book here your dinner table on the water by choosing a tour package with at least 120 minutes. A dropdown field will then appear below where you can choose for a restaurant option. You can check the details (menu and pricing) of the restaurants here. For a 3 or 4-course luxury dinner cruise we recommend a 180 min tour. Please get in touch with us if you would like to enjoy more than 2 dishes during your Amsterdam private luxury dinner cruise.
Once you have stepped on board of our boat, a complimentary welcome drink is waiting for you. You can choose between organic wines (red & white wine), beer or soft drinks. If you have a special moment to celebrate we also offer Champagne for an extra charge of 72,50 EUR per bottle.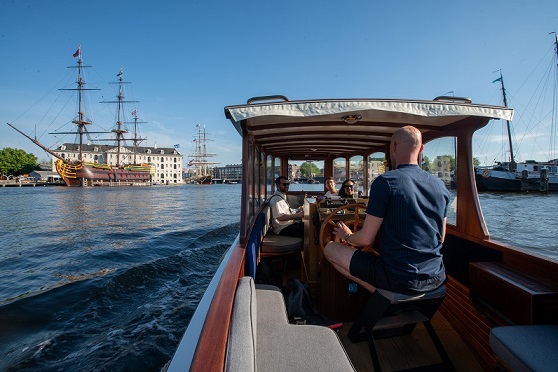 View of Undine from the sundeck to dining table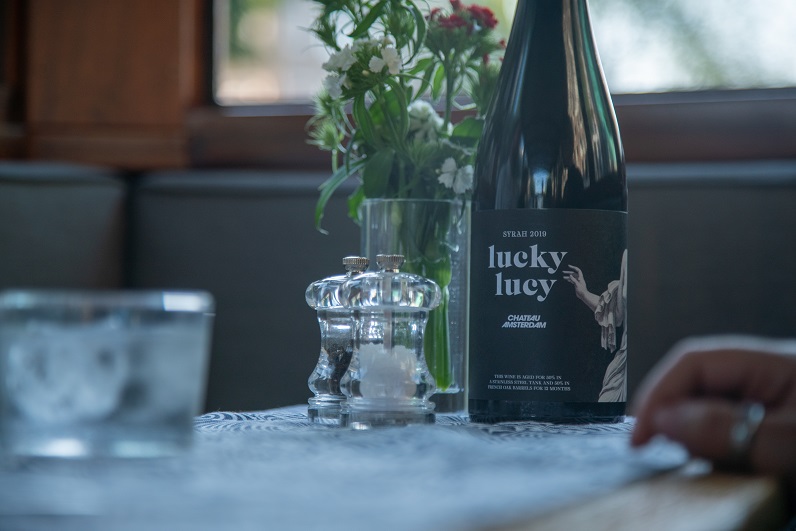 Dining table seating up to 5 persons
What to expect from a private dinner cruise in Amsterdam?
The private dinner cruise is suitable for up to 5 people. Once you are seated on our floating dinner table, we will hand you out the menus from the restaurants of your choice. Those restaurants are all located on the Amsterdam canals, so they can easily serve the food into our boat. From one restaurant you can choose the starter and from the other one you can choose the main course. If you decided to go for a 3 or 4-course private dining experience, there will be more than 2 restaurant choices possible.
During the tour you will pass by the most scenic architectural buildings of Amsterdam. But also Amsterdam's points of interest, like the point of seven bridges, the Anne Frank Museum and also the Red Light District will not be missed. The 2-hours private dinner cruise is an unforgettable experience to celebrate a special evening with your friends, family or to surprise your partner with this private romantic luxury dinner cruise. A floating candlelight dinner experience on the Amsterdam canals!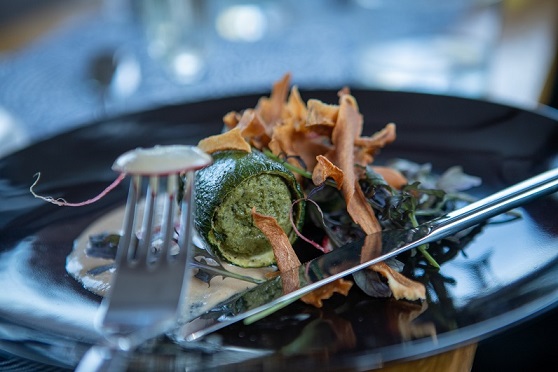 Main dish from the restaurant "Hemelse Modder"
What is the price for a private dinner cruise Amsterdam?
The price for a 2-hours private dining experience in Amsterdam is starting from 430 EUR incl. tax + the food you order from the restaurants and the drinks you choose next to your welcome drink. On average, a 2-course dinner with our cooperating restaurants can range between 35-50 EUR per person, depending on your choice of dishes. You can order from our minibar a selection of organic white and red wines (per bottle) as well as Heineken and Hertog Jan Beer. The wines we serve are organic wines from Chateau Amsterdam and we have either Heineken beer or local beers from a microbrewery. Do you have a favourite drink you can not miss during a perfect dinner? Let us know and we try to arrange it for you!

In addition to that, we are also able to provide a 3-course or 4-course private dinner cruise. The recommended cruise time is 180 minutes. Please get in touch with us for scheduling an extended private dining experience with serveral courses.

We do not add any surcharges on the restaurant prices! The prices of the dishes can be checked on the restaurant's website here.


Which canal restaurants can you choose from?
You can choose from the following combinations of canal restaurants your starter & main course. When making a booking, you can choose one of the below mentioned restaurant combinations in the dropdown menu when choosing a tour with at leat 120 minutes. The food from Black & Red as well as the Vegan Sushi Bar can be ordered a la carte on the boat! The food from restaurant Van de Kaart needs to be pre-ordered at least 1 day prior to departure day.

Combination 1: Black & RED
Combination 2: Van de Kaart Combination 3: Vegan Sushi Bar